Cooperation Consultation

Email: fici@fici.org.cn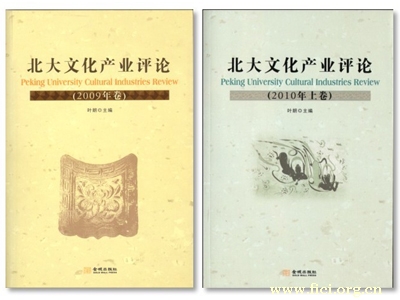 Peking University Cultural Industries Review is the jook (journal book) on cultural industries issued by the Institute for Cultural Industries of Peking University and National Research Base for Cultural Industries Innovation and Development; and a platform for academic papers of the Forum on International Cultural Industries, China. It is edited as periodicals and published as books, issued in June or December every year.
This Jook is characterized by theoretical, critical, historic and international researches into policies of cultural industries, reformation of cultural system, theory of cultural industries, regional cultural industries, management of cultural industries, foreign cultural industries, cases of cultural industries, and subject construction of cultural industries and so on. It focuses on the development strategies and commercial patterns of cultural industries.
This Jook intends to become an international forum on cultural industries for known scholars both home and abroad to publish their academic findings; meanwhile, a bridge for Chinese scholars in this field to communicate with the international academic frontier.
Back to ICIPKU
Copyright@1999-2012 Institute for Cultural Industries,Peking University All Rights Reserved